Husby's mom is from the Midwest. Actually, Wisconsin, to be exact: the land of (amazing) cheese and winter squash. Actually, I'm not sure that it's the land of winter squash, but I'd never had butternut squash (or acorn or buttercup) until I started dating Husby. I remember well the first time I had it. My future mother-in-law made Ina Garten's
Caramelized Butternut Squash
. I scooped it onto my plate; the first bite I took melted in my mouth. I'm pretty sure I had two helpings that night, and then I ate all of the leftovers that we took home. My reason? He's had it his entire life; I have some years to make up for missing out on winter squash. For all that Texas has to offer, winter squash isn't one of them.
We try to eat one vegetarian meal a week. And we're attempting to expand the whole grains that we eat. I bought a cookbook a few years ago called
Super Natural Cooking
.
We read all about real, natural foods. Farro was one of those. I bought a bag of it, and it sat in our pantry, silently intimidating me for about a year. Finally, I decided to use it. I googled "farro recipes", and happened upon a recipe on
101 Cookbooks Blog
, which is the author of
Super Natural Cooking
. My inaugural farro dish was
Farro and Roasted Butternut Squash
. And? It was fabulous; even Husby loved it. I'd consider all of the ingredients to be favorites, so it really worked for me. I often cook a bunch of whole grains like farro and barley (a good farro substitute), and then divide them into quart sized bags and stick them in the freezer. Another shortcut I take is using frozen diced butternut squash. I prefer fresh, but this--along with thawed grains--works for my busy days.
(Also, I have a weird scar on the knuckle of my right pointer finger. The pressure put on it by cutting winter squash [and other things] can become painful. Strange, right?)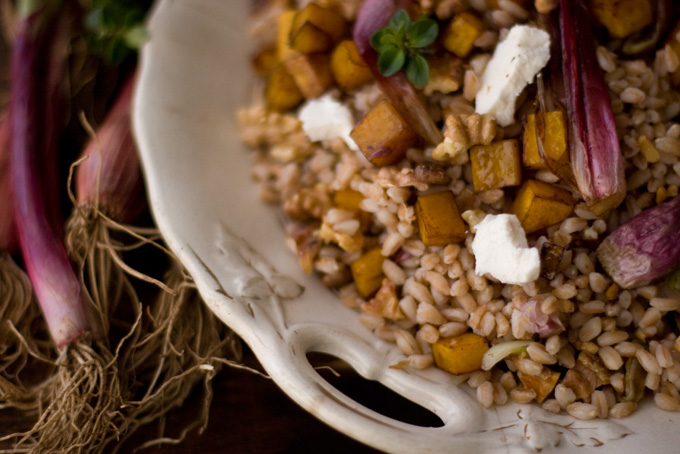 Farro and Roasted Butternut Squash
from http://www.101cookbooks.com/
If you are pressed for time, opt for a lightly or semi-pearled farro (actually easier to find in some places), which will cut the cooking time for the grains down to about 20 minutes. Barley, both hulled and pearled, would make a nice substitution if you are having trouble finding farro. Also, I found the beautiful red spring onions at the farmers' market but regular red onions will work well, and will be much easier to find.
Ingredients
2 cups farro, rinsed and drained
2 teaspoons fine-grain sea salt
5 cups water (or stock)
3 cups butternut squash, cut into 1/2-inch dice
1 large red onion cut into 1/8ths
1 tablespoon fresh thyme, minced
3 tablespoons olive oil
1 tablespoon balsamic vinegar
1 cup walnuts, deeply toasted
3 tablespoons toasted walnut oil (or more olive oil)
1/4 cup goat cheese, crumbled
Directions
Preheat oven to 375.
Combine the farro, salt, and water in a large, heavy saucepan over medium heat. Cover and simmer, stirring occasionally, until the farro is tender, 45 minutes to an hour, or about half the time if you are using semi-pearled farro. Taste often as it is cooking, you want it to be toothsome and retain structure. Remove from heat, drain any excess water, and set aside.
While the farro is cooking toss the squash, onion, and thyme with the olive oil, balsamic vinegar and a couple big pinches of salt on a rimmed baking sheet. Arrange in a single layer and place in the oven for about 20 minutes. Toss the squash and onions every 5-7 minutes to get browning on multiple sides. Remove from the oven, let cool a bit, and mince just 1/2 of the red onions.
In a large bowl gently toss everything (except the goat cheese) with the toasted walnut oil (or olive oil). Taste and add a bit of salt if necessary. Serve family-style in a simple bowl or on a platter garnished with the goat cheese.
Serves 6 - 8 as a side, less as a main.
We ate this as the main course. It would be wonderful with an arugula salad. I used a large red onion and used additional olive oil in place of the walnut oil, since I didn't have it on hand.
I just stocked up on frozen diced butternut squash and bought a ton of farro in the bulk section of our grocery. I cannot wait to make this again. It's so fall-like and cozy.