Over the weekend, Husby and I talked about plans for my birthday week. See if you can detect the theme:
"My mom is coming over on Tuesday night. We're going for sushi. Do you want to go?"
"Oooh...we still have that voucher for Marble Slab. Let's go on Wednesday."
"I can't decide what I should request for your mom to cook for my birthday dinner at their house on Thursday."
"Where should we go to dinner on Friday?"
"You know, Brent and Patti will be here on Saturday. I think I'll cook dinner, even though it's for my birthday."
Then he said that we needed to go shopping for my birthday. Bless him! Of course I have a few things in mind, but then he said that he's usually able to find a wish list on my blog. Since I haven't done a wish list since Christmas, I thought I'd help out my sweet husband. (Also if other people--like my brothers--need an idea, just choose one.)
1. I'm not sure whether I'd use this
Anthropologie egg crate
in the fridge or to store my rings and earrings. But I've had my eye on it for a while!
2. I l.o.v.e. serving ware. I have a ton, but I don't have all of the sizes I'd like. This
serving bowl
--also from Anthropologie--sure is cute: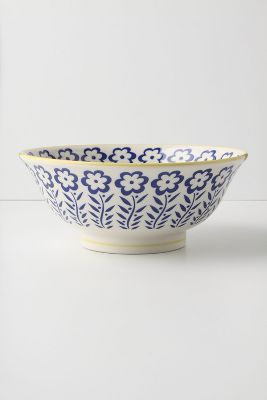 3. I adore big earrings. Everyday, I wear pearls or big earrings. Here's a pair that caught my eye:
Etsy
:
Iris Jewelry Design

4. I'd be totally fine with a massage or pedicure
Belladona
:

5. I watched the Les Miserables 25th anniversary concert that I recorded on PBS. I loved it. It made me realize that I love it just as much as Wicked, which I thought was my new favorite musical. I was wrong. I can't decide between the DVD and CD of the concert, so I'd choose both.
6. One of my teacher friends came into my office today to show me her jazzed up Toms wedges. They were SO CUTE! She even bedazzled them. Now, I'd like a pair for summer. (Side note: I've recently begun wearing heals again. Almost every day. It's amazing.) I'd like these gray tie dye wedges. (Husby, if you read this: Racquet & Jog has Toms.)